Assam Class 9th Mathematics Textbook 2023 : Advantages, All Information Available Here
Assam Class 9th Mathematics Textbook 2023. Assam Class 9th refers to the ninth grade or standard of education in the state of Assam, India. This stage of education plays a pivotal role in a student's academic journey, as it serves as a crucial stepping stone towards higher studies. The curriculum for Class 9th in Assam is set by the Board of Secondary Education, Assam (SEBA), and it encompasses subjects such as English, Mathematics, Science, Social Science, and languages like Assamese or Hindi. The curriculum is designed to provide students with a comprehensive education, focusing on the development of critical thinking, problem-solving, and analytical skills.
At the end of the academic year, students in Assam Class 9th are required to appear for examinations conducted by SEBA. These examinations assess the students' understanding of the subjects and serve as a basis for their promotion to the next grade. The core subjects typically include English, Mathematics, Science, and Social Science. Additionally, students may study languages such as Assamese or Hindi, and have the option to choose additional subjects like Computer Science, Fine Arts, or Physical Education.
SEBA prescribes textbooks for each subject in Assam Class 9th. These textbooks serve as important resources for students, providing them with the necessary content to study and prepare for their examinations. The textbooks are designed to cover the required syllabus and facilitate the understanding of concepts and topics in a systematic manner.
Class 9th is regarded as a crucial year in the education system of Assam. The concepts and skills learned during this period form the foundation for higher studies. It is important for students to thoroughly grasp the subjects and develop a strong understanding of the core concepts. Along with academics, Class 9th also emphasizes the holistic development of students. They are encouraged to participate in co-curricular activities, sports, and cultural events to enhance their overall growth and personality development.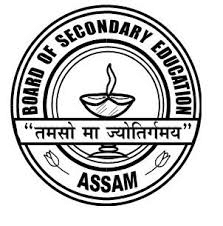 Chapter Names For Assam ninth-grade Mathematics Textbook

| Unit | Topics Covered |
| --- | --- |
| Unit 1: Number System | – Rational and Irrational Numbers |
| | – Real Numbers |
| | – Exponents and Powers |
| | – Square and Square Roots |
| | – Cube and Cube Roots |
| Unit 2: Algebra | – Polynomials |
| | – Linear Equations in Two Variables |
| | – Factorization of Polynomials |
| | – Algebraic Identities and Factorization of Algebraic Expressions |
| Unit 3: Geometry | – Lines and Angles |
| | – Triangles |
| | – Quadrilaterals |
| | – Areas of Parallelograms and Triangles |
| | – Circles |
| Unit 4: Mensuration | – Areas of Plane Figures |
| | – Surface Areas and Volumes |
| | – Volume and Surface Area of Solids |
| Unit 5: Statistics and Probability | – Statistics |
| | – Probability |
| | – Mean, Median, and Mode |
| | – Probability of Simple Events |
| | – Experimental Probability and Outcomes |
Advantages Of Class 9th Mathematics Textbook
Comprehensive Coverage: A good mathematics textbook provides a comprehensive coverage of the topics and concepts prescribed in the curriculum. It ensures that all the necessary concepts, formulas, and problem-solving techniques are included, helping students develop a strong foundation in mathematics.
Clear Explanation: The textbook should provide clear and concise explanations of mathematical concepts, theories, and formulas. It should use simple language and logical progression to help students understand the subject matter effectively.
Examples and Practice Problems: The textbook should include an ample number of examples and practice problems to reinforce the understanding of concepts. Well-explained examples help students grasp the application of concepts, while practice problems allow them to test their skills and reinforce their learning.
Gradual Progression: A good textbook follows a gradual progression of difficulty levels. It starts with basic concepts and gradually builds upon them, introducing more complex topics as the student progresses through the chapters. This allows students to learn and absorb mathematical concepts in a step-by-step manner.
Visual Aids and Diagrams: Visual aids, diagrams, and illustrations can enhance the understanding of mathematical concepts. A textbook that incorporates visual representations and diagrams to explain concepts and problems can be beneficial for students who are more visually oriented learners.
Additional Resources: Supplementary resources such as reference tables, formula lists, glossaries, and summary sections can be helpful for quick revision and reference. These additional resources make it easier for students to consolidate their learning and revise important concepts.
How to Download the Mathematics Textbook for Assam Class 9

Visit the official website: Go to the official website of the Assam State Board of Secondary Education (SEBA) or the Assam Higher Secondary Education Council (AHSEC).
Locate the "Textbooks" section: Look for a section on the website that provides access to textbooks. It may be labeled as "Textbooks," "E-Books," or something similar.
Select the appropriate class and subject: In the textbooks section, locate the Class 9th textbooks and specifically choose the Mathematics subject.
Choose the textbook: The website should provide a list of textbooks available for Class 9th Mathematics. Identify the relevant textbook based on the title and edition.
Click on the download link: Once you have identified the textbook, click on the download link associated with it. The textbook may be available in PDF format.
Save the textbook: After clicking the download link, the textbook file will start to download. Save the file to your preferred location on your device.
Access the textbook: Once the download is complete, you can open the PDF file using a PDF reader application. You can now access and read the Assam Class 9th Mathematics textbook on your device.
Assam Class 9th Mathematics Textbook 2023
Q1: What is the grading system for Class 9th Mathematics in Assam?
A: The grading system for Class 9th Mathematics in Assam is typically based on the marks obtained by students in the examinations. The exact grading system may vary between schools, but commonly used grading scales include letter grades (A, B, C, etc.) or numerical scales (out of 10 or 100).
Q2: Are there any practical or project-based assessments in Class 9th Mathematics in Assam?
A: Practical or project-based assessments may not be a significant component of the Class 9th Mathematics curriculum in Assam. Mathematics is predominantly a theory-based subject, and assessments usually focus on theoretical knowledge, problem-solving, and understanding of concepts.
Q3: Is there a prescribed textbook for Class 9th Mathematics in Assam?
A: Yes, there are prescribed textbooks for Class 9th Mathematics in Assam. The specific textbook used may vary between schools or educational boards. It's recommended to refer to the official textbook list provided by your school or consult with your teachers to determine the prescribed textbook for Mathematics in Class 9th.
Q5: Are there any online resources or study materials available for Class 9th Mathematics in Assam?
A: Yes, there are various online resources and study materials available for Class 9th Mathematics. You can find educational websites, video tutorials, practice quizzes, and sample papers online. Additionally, there are e-learning platforms and mobile applications that offer interactive Mathematics lessons and exercises.