Bihar Public Holidays List 2023-2024 : Complete Details Available Here
Bihar Public Holidays List 2023-2024. Eastern India's state of Bihar is known for its rich historical and cultural legacy. Bihar is known for its significant historical sites and archaeological treasures. The state was once the center of ancient civilizations like Magadha and Maurya, which played a vital role in shaping the history of India.
Nalanda, the ancient seat of learning, was one of the world's earliest universities and attracted scholars from all over the world. The ruins of Nalanda University are now a UNESCO World Heritage Site. Another prominent historical site is Bodh Gaya, where Gautama Buddha attained enlightenment. It is a major pilgrimage site for Buddhists and attracts devotees from around the world. Bihar is also home to many other historical landmarks, including Rajgir, Vaishali, and Patliputra (modern-day Patna), which was once the capital of the mighty Mauryan Empire.
Bihar is culturally diverse, with a rich tapestry of art, music, and festivals. The state celebrates various religious and cultural festivals with great enthusiasm. Chhath Puja, a significant festival dedicated to the Sun God, is widely celebrated in Bihar. It involves a rigorous ritual of fasting and offering prayers to the setting and rising sun. Bihari cuisine is also famous for its delicious flavors and unique dishes. Litti Chokha, a traditional dish made with roasted gram flour balls and mashed vegetables, is a specialty of Bihar. Bihari folk music and dance forms like Jat-Jatin and Jhijhian are an integral part of the state's cultural heritage.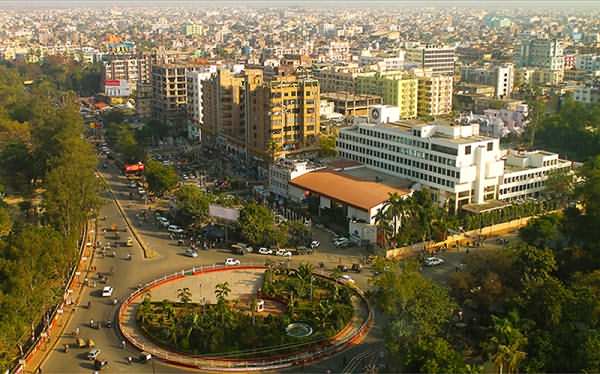 Bihar Public Holidays List 2023-2024
| Sr. No. | Holiday | Date |
| --- | --- | --- |
| 1 | Republic Day | January 26 |
| 2 | Maha Shivaratri | Varies |
| 3 | Holi | Varies |
| 4 | Good Friday | Varies |
| 5 | Ram Navami | Varies |
| 6 | Mahavir Jayanti | Varies |
| 7 | Eid-ul-Fitr | Varies |
| 8 | Raksha Bandhan | Varies |
| 9 | Independence Day | August 15 |
| 10 | Janmashtami | Varies |
| 11 | Muharram | Varies |
| 12 | Mahatma Gandhi Jayanti | October 2 |
| 13 | Dussehra | Varies |
| 14 | Eid-e-Milad | Varies |
| 15 | Diwali | Varies |
| 16 | Chhath Puja | Varies |
| 17 | Guru Nanak Jayanti | Varies |
| 18 | Christmas Day | December 25 |
Madhya Pradesh Public Holidays List 2023-2024
what are the principal holidays celebrated in the state of Bihar?
Chhath Puja: Chhath Puja is one of the most important festivals celebrated in Bihar. It is dedicated to the Sun God and is observed for four days. Devotees offer prayers to the Sun God at riverbanks or water bodies, and women observe a strict fast during this period. The festival is known for its vibrant rituals, including taking holy dips, offering arghya (offering of water) to the setting and rising sun, and singing devotional songs.
Holi: Holi, the festival of colors, is widely celebrated in Bihar with great enthusiasm. People indulge in playful color fights, spray colored water on each other, and enjoy traditional music and dance. The festival brings people together, fostering a sense of joy, unity, and community bonding.
Durga Puja: Durga Puja is a major Hindu festival celebrated in Bihar, particularly in the regions of Mithila and Bhagalpur. It honors the goddess Durga and celebrates the victory of good over evil. Elaborate pandals (temporary structures) are created, where beautifully crafted idols of the goddess are worshipped for several days. Cultural performances, processions, and community feasts are also organized during this time.
Eid-ul-Fitr: Eid-ul-Fitr is an important festival celebrated by the Muslim community in Bihar. It marks the end of Ramadan, the holy month of fasting. Muslims gather for prayers at mosques, exchange greetings, and share meals with family and friends. The festival is known for its spirit of generosity and charity, as people donate to the less fortunate.
Sonepur Mela: Sonepur Mela is one of the largest cattle fairs in Asia, held in Bihar. It is a month-long festival that takes place in Sonepur, near the confluence of the Ganges and Gandak rivers. The fair attracts traders, farmers, and tourists from all over the country. It is famous for its livestock market, where various animals such as elephants, horses, buffaloes, and birds are bought and sold. The fair also offers a variety of entertainment and cultural activities.
Bihula-Bishari Puja: Bihula-Bishari Puja is a folk festival celebrated in many parts of Bihar, especially in the Mithila region. It is dedicated to the local deities Bihula and Bishari, who are worshipped for protection against snakebites and other ailments. The festival involves rituals, prayers, and folk performances depicting the mythological story of Bihula and Bishari.
1)How many public holidays are observed in Bihar?
Ans In Bihar, there are around 25 public holidays observed throughout the year. These holidays include both national holidays celebrated across India and regional holidays specific to Bihar.
2)What are some of the major public holidays in Bihar?
Ans Some of the major public holidays in Bihar include Republic Day, Holi, Ram Navami, Eid-ul-Fitr, Independence Day, Gandhi Jayanti, Durga Puja, Diwali, and Christmas. These holidays are widely celebrated across the state.
3)Are all public holidays in Bihar fixed dates?
Ans While some public holidays in Bihar have fixed dates and are celebrated on the same day each year, there are also holidays that are determined based on the lunar calendar or religious observations. Festivals like Holi, Ram Navami, Eid-ul-Fitr, and Durga Puja vary in their dates each year.
4)Are public holidays in Bihar applicable to all districts and cities?
Ans Yes, public holidays in Bihar are observed in all districts and cities across the state. Government offices, schools, banks, and many businesses remain closed on public holidays.